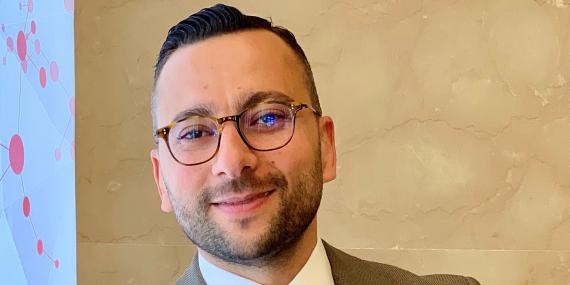 Mohamed Hammam, Pfizer's Country Manager for the Adriatic region
Mohamed Hammam is Country Manager for the Adriatic region within Pfizer, covering eight markets: Serbia, Slovenia, Croatia, Bosnia and Herzegovina, Macedonia, Montenegro, Albania and Kosovo. He has worked at Pfizer for almost eight years. Originally a pharmacist, he has over nineteen years of experience within the pharmaceutical industry working in several multinational companies, and countries.
Pfizer is one of the biggest pharmaceutical companies worldwide with over 70 years of innovation more than 79,000 colleagues globally, Pfizer delivers medications to over 125 countries. Since 2001, their Serbian office, now with more than 60 colleagues, has been bringing breakthroughs Serbian patients. Pfizer works across many areas, such as oncology, rare diseases, cardiovascular and metabolic diseases, inflammation and immunology, antimicrobials and vaccines. Through collaboration with physicians in Serbia and across the region, the company aims to offer the best quality medications and the best support for patients.
We asked Mohamed what interested Pfizer in exhibiting at the Conference on Microbiology in Belgrade, and he explains: "For many years, Pfizer has played an important role in addressing antimicrobial resistance and it remains a key area of focus today.   The company has one of the largest anti-infective profiles in the industry.  We are developing and investing in very clear unmet needs, like gram-negative bacterial infections, invasive fungal infections and as you know we are also investing a lot in vaccines.  Recently we also invested in developing a protease inhibitor therapy for COVID-19, so we have both vaccines and treatment, and both are available in Serbia. Prevention through vaccines is a critical tool in the fight against antimicrobial resistance along with antimicrobial stewardship. That is why we believe that the collaboration with the microbiology community and the future looking discussions that will take place during the conference are critical. We believe that continuous medical education on this topic is key and cannot be achieved without collaboration between physicians, governments, medical societies and pharmaceutical companies. So, we will be supporting the conference, sharing the updates about our innovations, to make sure that our physicians are updated and fully aware about the recent scientific evidence that helps them to choose the right medication for their patients and also help all of us to make sure that we have enough awareness about antimicrobial resistance and how we can make a difference and save antibiotics for the next generation."
When asked what societal problem Pfizer provides a solution for, Mohamed elaborates on two focus areas, the first involving COVID-19 and secondly their efforts to provide equity to the distribution of medication globally:
"Undoubtably, the biggest challenge we have faced during the last two years was COVID-19 and Pfizer led the fight against the deadly pandemic. Through our collaboration with German company BioNTech, we managed to accelerate the delivery of vaccines that supported patients worldwide. We also developed our treatment for COVID-19 too to complement vaccination strategies. I believe this was another breakthrough that we managed to deliver in a very short time. It proves that Pfizer can make the impossible possible and deliver those vaccines and medication for everyone. The pandemic really highlights healthcare inequity and the challenges surrounding it. Drawing on these learnings, Pfizer launched 'An Accord for a Healthier World', through which we are planning to deliver our all-own breakthroughs in medications and vaccines to more than 1.2 billion patients at a not-for-profit price in more than 45 lower income countries worldwide." 
Is Pfizer working on projects we do not know about yet?   
Though many people first became aware of mRNA technology because of COVID-19 vaccines, it is not new to the scientific community. For decades, scientists have studied mRNA, looking for ways to unlock its potential to prevent and treat disease. While the mechanism of action for mRNA technology is relatively simple – once inside cells, it instructs them to build proteins – researchers have had to work for years develop technologies to allow mRNA to work in the real world. mRNA has proved to be a great platform for vaccine development (and potentially therapeutics), so that our own cells can do the hard work of producing proteins, resulting in an immune response which helps protect us against diseases.
The approval of the first mRNA-based COVID-19 vaccines was a scientific turning point, establishing mRNA as a versatile, flexible technology. The focus and drive Pfizer gave to developing our COVID-19 vaccine in partnership with BioNTech gave us a wealth of scientific knowledge in just one year.
Pfizer's next wave of mRNA scientific innovation is expanding in the infectious disease arena with development programs in flu (influenza) and shingles, also exploring its versatility in the areas of rare genetic diseases. We will stay close to other opportunities where the scientific rationale for using mRNA is strongest and Pfizer's disease and biology area expertise is deepest, where the potential impact on patients could be greatest.
Do you have anything to add to this interview?
"We've seen through the pandemic that collaboration is the key to bringing breakthroughs that change patients' lives. Whilst the industry and medical community can and will keep innovating, it is important that regulatory authorities and governments work with us with the same speed to ensure that we have the right regulations to have the right medication for everyone. We hope also that authorities will learn from the pandemic, accelerate access to medicines, and ensure that new medications are available for their patients. I know that Serbian authorities are doing their best, but we still do believe that we can do more together, and we can ensure that all the innovative medicines are available for the Serbian people within a shorter time range from discovering to delivering the medications."